This shop has been compensated by Collective Bias, Inc. and its advertiser. All opinions are mine alone. #GiftingForBaby #CollectiveBias
Friends and family have been asking me what baby items I would love to get for my baby shower. It's been eight years since I had a baby and I had to really think about what I really wanted. After contemplating all the cute and fun baby stuff around now, I truthfully was more concerned about getting the things I truly needed. I remember the first few days of bringing a baby home were the hardest. Lack of sleep and my world completely changing really took a toll on me. Thankfully I was well prepared with the baby essentials for those first few days.
---
You can purchase Johnson's Baby Bedtime Bath and Johnson's Baby Bedtime Lotion by hovering over the image below.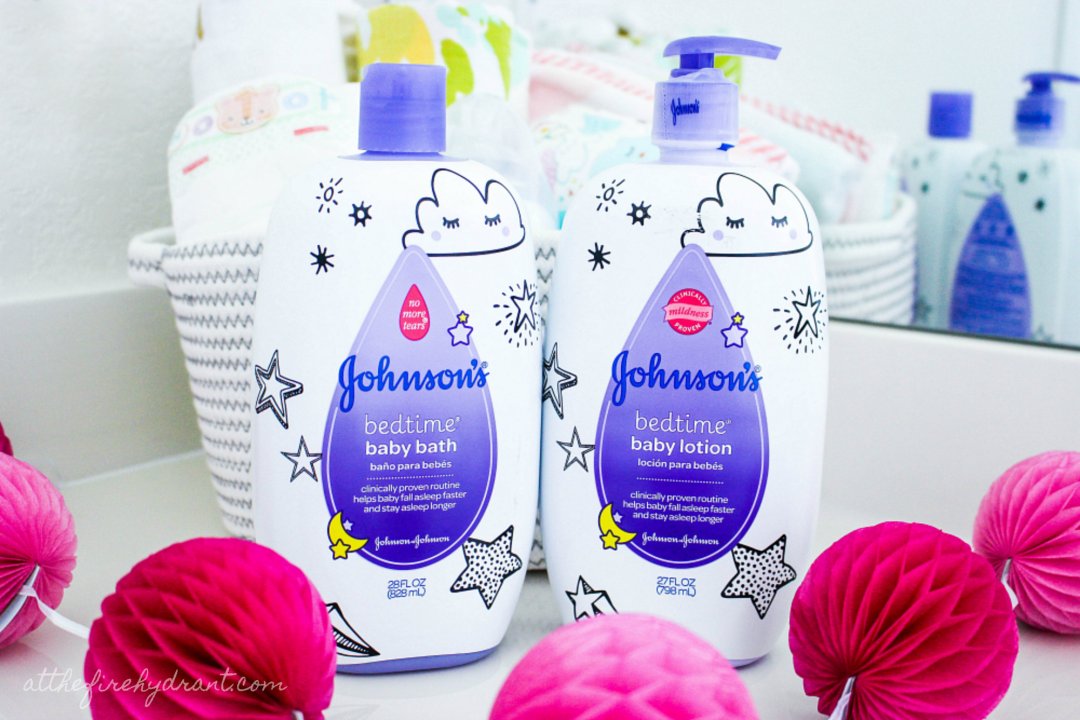 If you think about it, babies just eat, sleep and poop those first few days. The most important things to me those first days with baby at home were the items needed for feeding time, bath time and bed time. Creating a first week essentials gift basket with all those little things needed to get any parent through those critical days doesn't have to be boring. Thankfully, these days brands make the cutest and most unique baby items. No more only having to choose between pink and blue baby gear! Even Johnson's Baby has released their super adorable and exclusive design packaging, that is only available at Target.
I remember using Johnson's Baby Bedtime Bath and Johnson's Baby Bedtime Lotion for my first baby's first bath at home. That dreamy smell brings back those warm memories and I can't wait to use it and smell it again with this second baby girl. Safety is my #1 priority and Johnson's Baby's too! That's why they don't contain parabens or phthalate. Johnson's Baby products are also hypoallergenic and they definitely do not them test them on animals!
Need an idea for a baby shower gift? Let me recommend creating a gift basket yourself with those little items that were most important to me. My First Week Essential Basket contains:
Diapers and Wipes
Baby blankets and Bottles
Bath Towel, Johnson's Baby Bedtime Bath and Johnson's Baby Bedtime Lotion

Let me know what your baby essentials are below and share your baby bath and bed time memories. I'd love to hear your baby stories.
Esta campaña ha sido compensada por Collective Bias, Inc. y su anunciante. Todas las opiniones son mías solo. #GiftingForBaby #CollectiveBias
Mis amigas y familia me han estado preguntando qué artículos de bebé me encantaría recibir para mi baby shower. Han pasado ocho años desde que tuve una bebé y esta vez tuve que pensar que era lo que realmente quisiera. Después de contemplar todas las cosas lindas y divertidas de bebé que hay ahora, sinceramente me preocupa más conseguir las cosas más necesarias. Recuerdo que los primeros días de traer a una bebé a casa fueron los más difíciles. La falta de sueño y que mi mundo haya cambiado completamente realmente fueron pesados. Afortunadamente, estaba bien preparada con las cosas más esenciales para los primeros días.
Si te das cuenta, los bebés sólo comen, duermen y hacen del baño los primeros días. Las cosas más importantes para los primeros días con el bebé en casa fueron los elementos necesarios para el tiempo de alimentación, tiempo de baño y tiempo de ir a la cama. Crear una canasta de regalo para la primera semana con todo lo esencial para bebe no tiene que ser aburrido. Afortunadamente, las marcas de hoy en día hacen los artículos más lindos y únicos para bebé. Ya no más tener que elegir entre puras cosas rosadas y azules para bebé. Incluso Johnson's Baby ha lanzado su línea de envolturas súper adorables y exclusivas que sólo está disponibles en Target.
Recuerdo que use Johnson's Baby Bedtime Bath y Johnson's Baby Bedtime Lotion para el primer baño de mi primera bebé. Ese olor de ensueño me trae cálidos recuerdos y me urge usarlo y olerlo de nuevo con esta segunda niña. ¡La seguridad es mi prioridad # 1 y para Johnson's Baby también! Es por eso que no contienen parabenos o ftalatos. Los productos Johnson's Baby también son hipoalergénicos y definitivamente no prueban los productos en los animales.
¿Necesitas una idea para un regalo de baby shower? Permíteme recomendarte hacer una canasta con las cosas más esenciales para la primera semana de bebe. Mi canasta contiene:
Pañales y toallitas
Cobijitas y biberones
Toalla de baño, Johnson's Baby Bedtime Bath y Johnson's Baby Bedtime Lotion
Déjeme saber cuáles son tus cosas más esenciales para bebé y comparta tus recuerdos del primer baño de bebé y recuerdos de la hora de dormir. Me encantaría leer tus historias de bebé.