I have received information and materials from ©Johnson & Johnson Consumer Inc. 2017. The opinions stated are my own. This is a sponsored post. #ForBetterTomorrows #BetterTomorrows #FallBack #CollectiveBias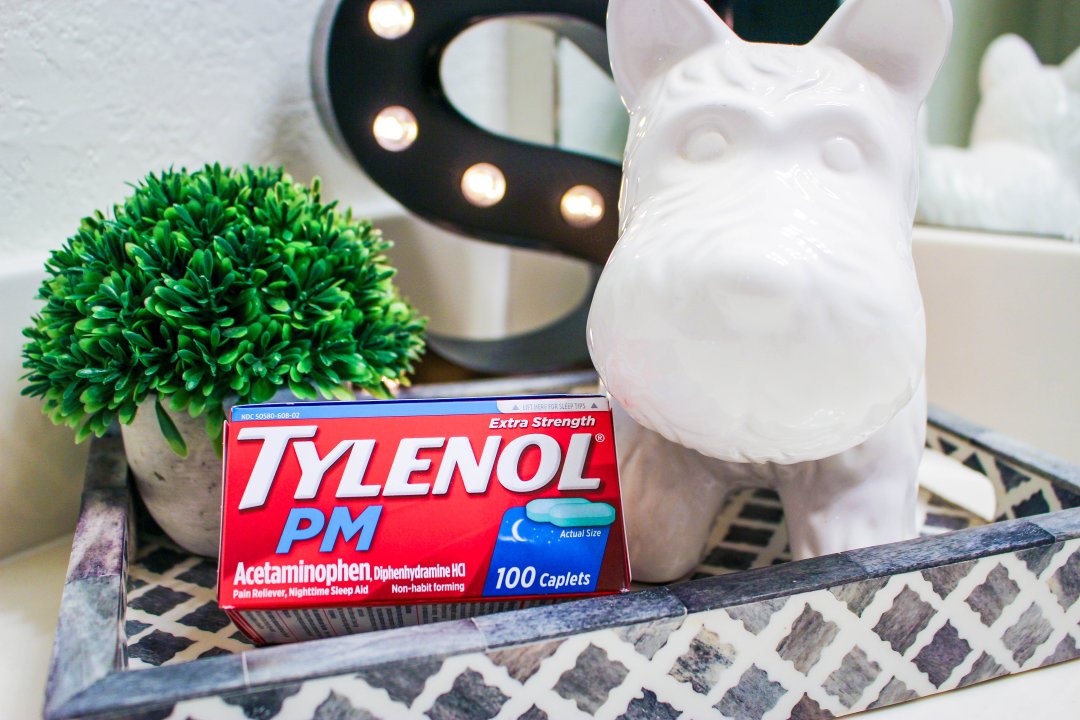 Hover over the image above for more details about TYLENOL® PM
I occasionally suffer from back pain after cleaning my house and sometimes those aches and pains are so persistent that they disrupt my sleep. Not getting enough sleep or a bad night's sleep not only ruins my day, but it carries over and ruins my whole week. Most of those days it's hard to function when you just don't get enough rest. Now with the time change and with fewer hours of daylight, a good night's sleep is more important than ever. I certainly do not want to waste the daylight hours because of a bad night's sleep caused by occasional pain. If you sometimes suffer from aches and pains that don't let you sleep well like I do, you might want to stick around because I want to share four things that help me on those painful and sleepless nights.
First, I have to take some TYLENOL® PM. On night's when I feel my back pain coming, I take two caplets at bedtime. Sleepless nights are the primary issue TYLENOL® PM consumers face, but then you add some aches or pain, like my back pain and it can become an added layer of complexity to already sleepless night. Luckily, TYLENOL® PM relieves those minor aches and pains while helping you fall asleep as well.
Next, I make my mom's delicious warm milk with cinnamon. I remember when I was little and I had night's when I just couldn't sleep, my mom would warm me up some milk with cinnamon and add a little bit of honey. This drink made me feel so warm and cozy. In fact it still does.
All you need is:
2 cups of milk
2 cinnamon sticks
1 tablespoon honey (optional)
In a small sauce pan, warm milk with cinnamon sticks. Remove from heat right as it comes to a boil, about 5 minutes. Pour into a mug and add half a tablespoon of honey if desired. Drink warm and enjoy!
The next thing I do, is put on my trusty sleep mask. It helps me sleep when I am in complete darkness. If you don't have a sleep mask, no worries because below I show you how to make one yourself. It's really very simple and you can get creative when making yours. I love pandas, so I made myself a little panda mask.
All you will need is:
Felt or fleece, in white, black and pink
pencil or marker
Elastic
Scissors
Hot glue gun and glue sticks
Measure your face from temple to temple and mark your felt or fleece with a pencil or marker.
Draw the mask outline on the white fleece leaving some extra room on the sides for the elastic to be attached.
Fold fleece in half and cut out your face mask.
Cut two large egg shapes, two medium panda ear shapes and one small oval for the nose from the black fleece and glue the pieces to the mask.
Cut a large rectangle piece and one small, long rectangle piece from from the pink fleece. Make the large rectangle into an accordion and use the smaller piece to tie around the larger piece to form a bow. Hot glue the pieces together.
Measure a piece of elastic around your head. Be sure the elastic is slightly smaller than you head, so elastic can stretch and hold the mask on your face. Glue the elastic onto the mask, making sure you glue enough of the elastic onto the mask so that it won't come apart easily.
The last thing I do before heading off to bed on those painful nights is finding some rain sounds on my music playlist. I have found that listening to rain sounds when going to bed, helps me relax and fall asleep faster. You can find many rain or white noise playlists on streaming services you can find online.
Right now Walgreens is offering TYLENOL® PM (100 count) for only $11.99 ($1.50 off with Walgreens card) but this offer is only valid 11/5/17-11/11/17, so hurry before it ends. Use TYLENOL® PM only as directed on the product packaging.

For more on TYLENOL® PM be sure to follow them on the Facebook and YouTube Channel.
TYLENOL® PM contains a pain reliever and nighttime sleep aid. ©Johnson & Johnson Consumer Inc. 2017 The third party trademarks used herein are trademarks of their respective owners. 
He recibido información y materiales de © Johnson & Johnson Consumer Inc. 2017. Las opiniones expresadas son mías. Esta es una publicación patrocinada. #ForBetterTomorrows #BetterTomorrows #FallBack # CollectiveBias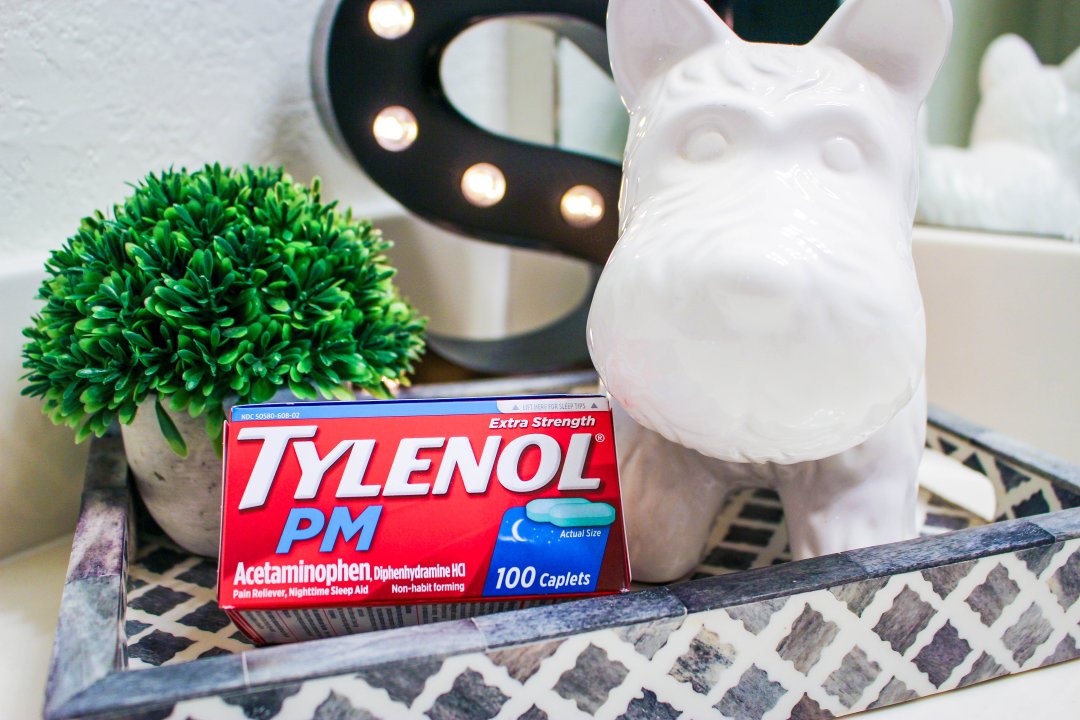 Haz click sobre la image de arriba para mas información sobre TYLENOL® PM
Occasionalmente sufro de dolor de espalda y, a veces, esos dolores son tan persistentes que interrumpen mi sueño. No dormir lo suficiente o tener una mala noche no solo arruinan mi día, sino que también arruinan toda mi semana. La mayoría de esos días es difícil funcionar cuando no descansas lo suficiente. Ahora con el cambio de horario y con menos horas de luz durante el día, una buena noche de sueño es más importante que nunca. No quiero perder horas del día debido a una mala noche de sueño causada por dolor occasional. Si tu a veces sufres de dolores que no te dejan dormir bien, no querrás perderte lo siguiente porque quiero compartirte cuatro cosas que me ayuden a mí en esas noches dolorosas y sin poder dormir.
Primero, me tomo unas TYLENOL® PM. En las noches cuando siento que me viene el dolor de espalda, tomo dos cápsulas a la hora de acostarme. Las noches de insomnio son el principal problema al que se enfrentan los consumidores de TYLENOL® PM, pero luego si agregas dolores o molestias, como mi dolor de espalda, se puede convertir en una capa adicional de complejidad para una mala noche. Afortunadamente, TYLENOL® PM alivia esos dolores y molestias menores mientras te ayuda a quedarte dormido también.
Después, preparo una deliciosa leche tibia con canela que mi madre me preparaba a mí de niña. Recuerdo que cuando era pequeña y tenía una noche en la que no podía dormir, mi mama me calentaba un poco de leche con canela y al final le agregaba un poco de miel. Esta bebida me hacía sentir tan cálida y acogedora. De hecho, todavía lo hace.
Todo lo que necesitas son:
2 tazas de leche
2 palitos de canela
1 cucharada de miel (opcional)
En un sartén pequeño, calienta la leche con la canela. Retira del fuego poco antes de que hierva, aproximadamente 5 minutos. Vierta en una taza y agrega media cucharada de miel si lo deseas. ¡Bebe y disfruta!
Lo siguiente que hago es ponerme mi máscara para dormir. Me ayuda mucho a dormir cuando estoy en completa oscuridad. Si no tienes una máscara para dormir, no te preocupes porque a continuación te muestro cómo hacer una tú mismo. Es muy simple y puedes ser creativo al hacer la tuya. Yo amo los pandas, así que me hice una pequeña máscara de pandita.
Todo lo que necesitarás es:
Fieltro o lana, en blanco, negro y rosa
Lápiz o marcador
Elástico
Tijeras
Pistola de pegamento caliente y barras de pegamento
Mide tu cara de sien a sien y marca tu tela con un lápiz o marcador.
Dibuja el contorno de la máscara en la tela blanca dejando algo de espacio adicional en los lados para que se adhiera el elástico.
Dobla la tela por la mitad y corta tu máscara facial para que queden los dos lados parejos.
Corta dos figuras grandes de forma de huevo, dos formas medianas de orejas de panda y un pequeño óvalo para la nariz de la tela negra y pega las piezas a la máscara blanca.
Corta una pieza rectangular grande y una pieza rectangular pequeña y larga de la tela rosa. Haz el rectángulo grande en acordeón y usa la pieza más pequeña para amarrarlo alrededor de la pieza más grande para formar un moño. Pega las piezas con el pegamento caliente.
Mida un pedazo de elástico alrededor de tu cabeza. Asegúrate de que el elástico sea un poco más pequeño que tu cabeza, de modo que el elástico pueda estirar y sostener la máscara en tu cara. Pega el elástico en la máscara, asegurándote de pegar suficiente elástico en la máscara para que no se deshaga fácilmente.
Lo último que hago antes de irme a la cama es encontrar algunos sonidos de lluvia en mi lista de música. Descubrí que escuchar sonidos de lluvia al acostarme me ayuda a relajarme y a dormirme más rápido. Puedes encontrar muchas listas de reproducción de lluvia o ruido blanco en servicios de transmisión de musica en línea.
En este momento, Walgreens te ofrece TYLENOL® PM (conteo 100) por solo $11.99 ($1.50 de descuento con la tarjeta Walgreens) pero esta oferta solo es válida del 11/5 / 17-11 / 11/17, así que apúrate antes de que termine. Use TYLENOL® PM solo como se indica en el empaque del producto.
Para obtener más información sobre TYLENOL® PM, asegúrese de seguirlos en el canal de Facebook y YouTube.
TYLENOL® PM contiene un analgésico y también ayuda para dormir durante la noche. © Johnson & Johnson Consumer Inc. 2017 Las marcas comerciales de terceros utilizadas en este documento son marcas comerciales de sus respectivos propietarios.