This shop has been compensated by Collective Bias, Inc. and its advertiser. All opinions are mine alone. #RegisteringForBaby #CollectiveBias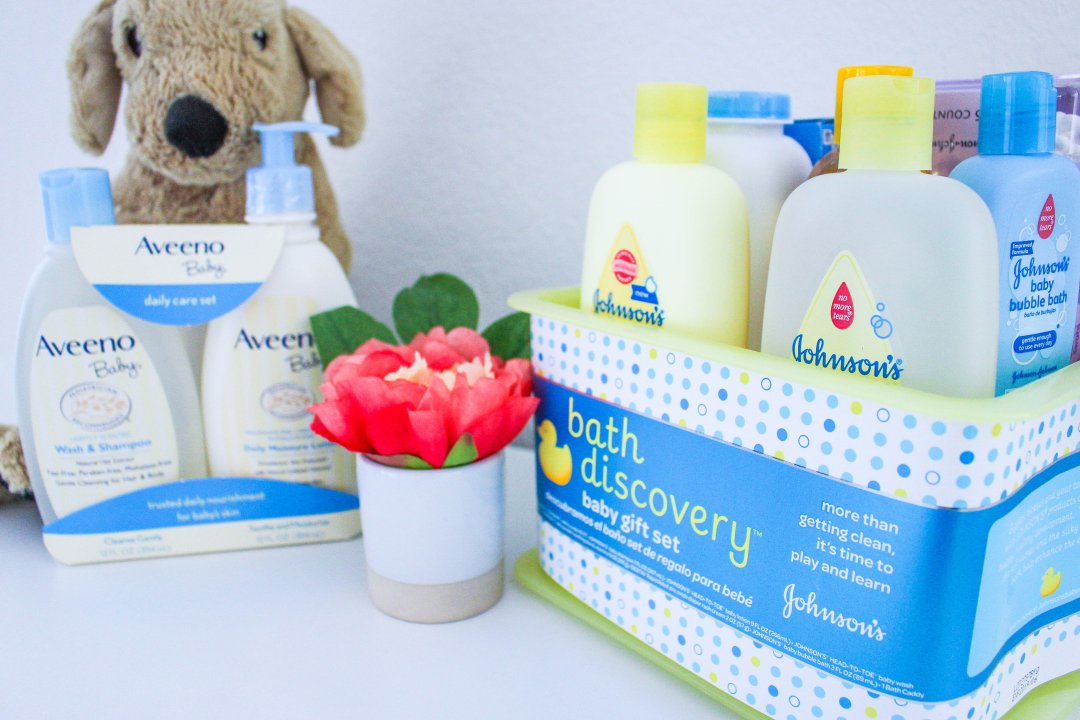 Hover over the picture above to learn more about Johnson's® Bath Discovery Set and Aveeno® Baby Daily Moisture Regimen Pack
Baby number two is on her way and I have been a little overwhelmed with getting everything ready for her arrival. During the process of moving into our new house we got rid of so many baby things from our first born thinking we were done and wouldn't be able to have any more children. SURPRISE! One month after moving into our new home we got the news that we would be parents again. At first we were shocked, then happy, then finally the panic started to creep up. We had nothing anymore and would have to start searching and buying brand new baby items.
Luckily for me Target, one of my favorite stores makes it so easy to buy baby items online and they make it even easier to set up a baby registry online. For me, being able to do things online is gold and if it is easy to set up, even better. All you have to do is visit Target Registry and select "create registry." From there you can view items based on categories like bed, bath, health, nursery, etc. This for me was the best because it's like a check list you go through and be sure you select everything you need in each category.
I ran and downloaded the Target registry app to add and track my gifts. The app is compatible with iPhone and Android. Once you register, you will receive a Welcome kit that you can pick up at your local Target Guest Services for $50 worth of coupons & handpicked samples. Plus you will receive a 15% off discount that will be emailed to you 8 weeks before your baby's arrival date so you can get those extra savings on anything left on your registry. The best part is Target offers easy returns and exchanges up to a year after your arrival date. I've had to use their return service for duplicate gifts and gifts bought that weren't quite what we wanted. Oh and did I mention that Target Baby registry offers Group gifting? This makes it easy for guests to contribute to larger items like nursery furniture or electronics. So far, the Gift tracking has made my life so much easier because you can match gifts to your givers and manage your thank you list.
Some of the essentials that pre-populate when you register are items like Johnson's® Bath Discovery Set, Aveeno® Baby Daily Moisture Regimen Pack and Infant TYLENOL® 2oz. Cherry, which are great gifts for you to receive since they are pre-packaged and include all the baby's essentials.
Having my registry ready was so convenient when it was time for my lovely friends to throw us a baby shower. Or should I say SHOWERS! Yes we were so blessed that we got two baby showers. Since our baby's name is going to be Frida Inés, we had one pink and flower themed shower and one Mexican themed shower.
You can find Johnson's® Bath Discovery Set, Aveeno® Baby Daily Moisture Regimen Pack and Infant TYLENOL® 2oz. Cherry in-store or online.
Creating a registry for yourself or for a friend or family member? Just visit Target Registry to add so many adorable and useful items. 
Esta tienda ha sido compensada por Collective Bias, Inc. y su anunciante. Todas las opiniones son solo mías. #RegisteringForBaby # CollectiveBias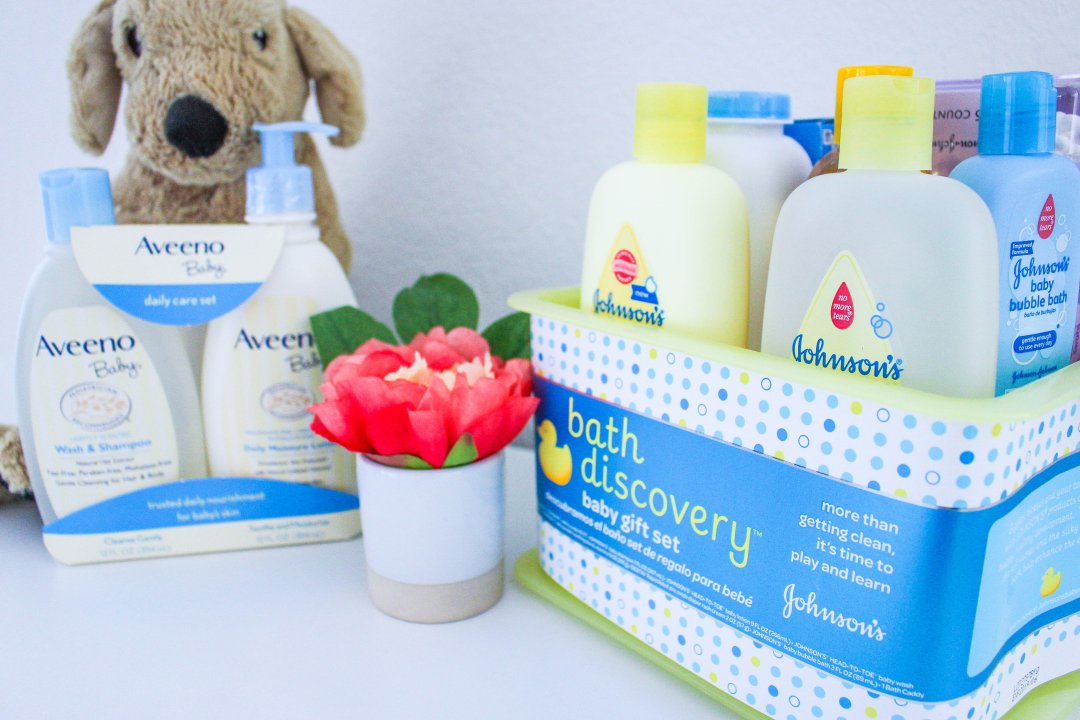 Haz click in en photo de arriba para mas sobre  Johnson's® Bath Discovery Set y Aveeno® Baby Daily Moisture Regimen Pack
Bebé número dos está en camino y la verdad me he sentido un poco abrumada por tener todo listo para su llegada. Durante el proceso de mudarnos a nuestra casa nueva, nos deshicimos de muchas cosas de bebés que eran de nuestra primera beba, pensando que ya habíamos terminado y que no podríamos tener más hijos. ¡SORPRESA! Un mes después de mudarnos, recibimos la noticia de que seríamos padres otra vez. Al principio nos sorprendimos, luego nos entró la felicidad, y finalmente el pánico comenzó a asomarse lentamente. Ya no teníamos casi nada y tendríamos que empezar a buscar y comprar artículos para bebés de nuevo.
Afortunadamente para mí, Target, una de mis tiendas favoritas hace que el comprar artículos para bebés en línea sea súper fácil y hace aún más fácil el crear un registro de bebé en línea. Para mí, poder hacer cosas en línea es oro y si son fáciles de hacer, mucho mejor. Todo lo que tienes que hacer es visitar la página de Registro Target y seleccionar "crear registro". De allí puedes ver los artículos en categorías artículos como de dormir, de baño, para la salud, para el cuarto de bebe, etc. Esto fue lo mejor para mí porque es como una lista que puedes ir revisando y asegurarte de seleccionar todo lo que necesitas en cada categoría.
En cuanto terminé, descargué la aplicación móvil de registro Target para agregar y manejar mis regalos. La aplicación es compatible con iPhone y Android. Una vez que te registres, recibirás un kit de bienvenida que puedes recoger en servicios de atención al cliente en tu Target local que lleva un valor de $ 50 en cupones y muestras. Además, recibirás un 15% de descuento que se te enviarán por correo electrónico 8 semanas antes de la fecha de llegada de tu bebé para que puedas comprar esas cositas que vaya quedando en tu registro. La mejor parte es que Target ofrece devoluciones e intercambios fáciles hasta un año después de la fecha de llegada. Yo ya tuve que usar el servicio de devolución para regresar regalos duplicados y regalos que no eran exactamente lo que queríamos. Ah, ¿y mencioné que el registro de Target Baby ofrece la opción de regalar en grupos? Esto facilita que tu familia, amigos e invitados puedan contribuir con artículos más grandes, como muebles del cuarto de bebe o productos electrónicos. La lista que ofrece Target para poder ver regalos comprados ha hecho mi vida mucho más fácil porque puedes ver quien te ha regalado que y administrar tu lista de tarjetas de agradecimiento.
Algunos de los artículos esenciales que te salen cuando te registras son Johnson's Discovery Set y Aveeno® Baby Daily Moisture Regimen Pack y Infant TYLENOL® 2oz. Cherry, que son excelentes obsequios para dar o recibir, ya que están pre-empacados ​​e incluyen elementos esenciales para bebé.
Tener mi registro listo fue tan conveniente cuando llegó el momento de que mis amigas nos dieran un baby shower. ¡O más bien debería decir DOS Baby Showers! Sí, fuimos tan bendecidos que nos dieron dos baby showers. El nombre de nuestra bebé será Frida Inés, así tuvimos una baby shower con tema de color rosa y de flores y otro con artículos Mexicanos.
Puedes encontrar el Johnson's® Bath Discovery Set, Aveeno® Baby Daily Moisture Regimen Pack y Infant TYLENOL® 2oz. Cherry en tu tienda Target local o en línea.
¿Necesitas crear un registro para tu ti o para un amigo o familiar? Simplemente visita Target Registry para agregar todos los artículos de bebe adorables y esenciales.