This shop has been compensated by Collective Bias, Inc. and its advertiser. All opinions are mine alone. #nothinglikeahug #CollectiveBias
The countdown to D-day (delivery day) has begun. I made a trip to my doctor today and it finally hit me that I have two or less weeks left. It's crunch time and I've had to start packing my hospital bag, gathering all baby items I need to take with me and start stocking up on those indispensable baby essentials, like diapers and wipes. I made a trip to Sam's Club the other day to buy my prenatal vitamins and noticed they have tons of Huggies® Diapers and at a great price.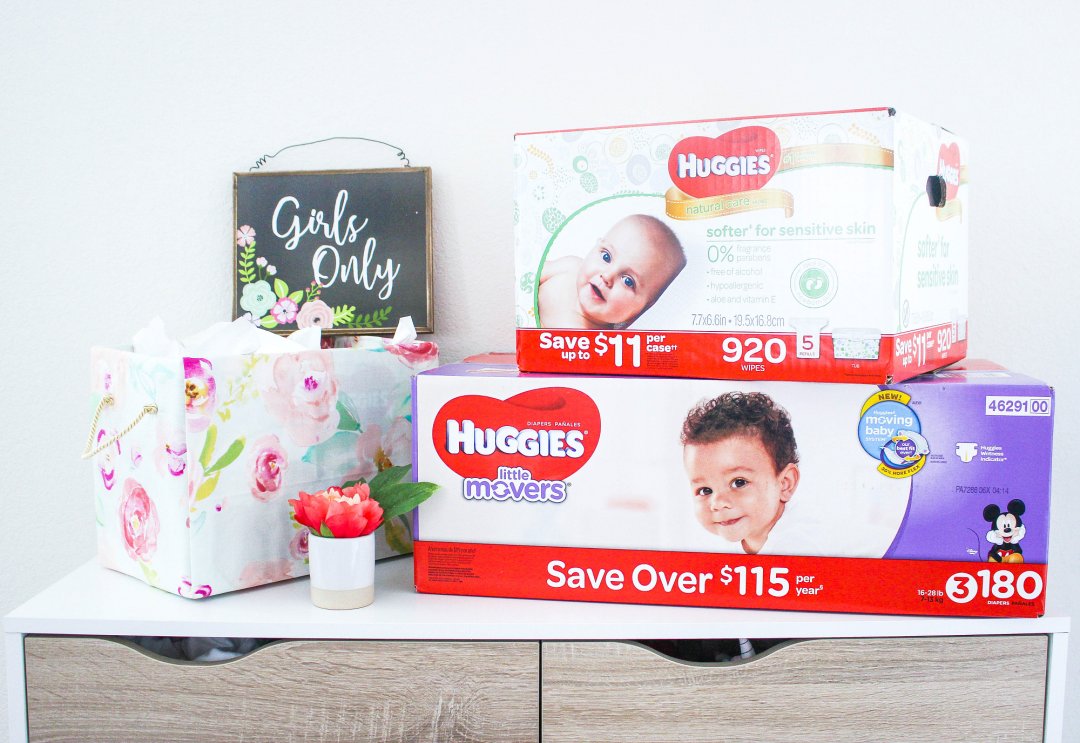 Hover over the picture above to learn more about Huggies® Diapers
I love Sam's because they offer such great services. My favorite is Club Pick Up. Being eight months pregnant, I really don't feel up to walking the entire store looking for what I need, so I just order online and they fill my cart for me. All I have to do is pull up to the drive thru pick up and just like that, they load my items for me.  It's especially handy when I have to get items in heavy boxes like Huggies® Little Snugglers, Huggies® Little Movers and Huggies® Natural Care Wipes boxes.
Now that I have a nice little stock pile of diapers and wipes and a ton of cardboard boxes, I needed to find a way to upcycle the boxes and since I needed a place to store the diapers and wipes anyway, I decided to make them look pretty and match my nursery theme. So I created some adorable fabric covered storage bins using the diapers and wipes boxes. And you can do this too! It works for any size box, just be sure to get enough fabric to cover your box.
For this project you will need:
A cardboard box
Enough fabric to cover the outside of your box
Decorative rope
A glue gun with glue sticks
A screwdriver, drill or hole puncher to make holes for the handles
Scissors
First cut the box top so you create an open bin. Place fabric under box and and measure enough fabric to cover the outside of your box, plus one or two inches to be able to fold fabric into the box. Cut corners of the fabric to form a cross, leaving one inch of fabric all around to fold in and create clean edges. Cut slits in the corners of the fabric, that lead to the box corners to create flaps to be able to fold without having overlapping fabric on the corners of the box. Fold short side fabric up and glue flaps to the box. Fold longer side flaps in and glue. Fold long side fabric to the box and glue the edges inside the box. Drill two holes on each short side of the box. Weave a piece of rope through the first hole and tie a knot on the inside and outside pieces of the rope. Leave about 6-7 inches of rope and tie another knot on the outside part of the rope. Weave the end of the rope and tie another knot on the inside part of the rope. This way you will have a knot on the outside and inside of each side of each rope and it will help secure your rope handle.
Right now Sam's Club is offering Limited Time Instant Savings on Huggies® Diapers, Pants and Wipes this holiday season. Be sure take advantage of already low prices and discover the best value on Huggies® Diapers, Pants and Wipes for your growing family. Save time and money when you shop so you can spend more of those moments and that money  with family.
Enjoy Instant savings on Huggies® items:
Buy any 1 Huggies product at Sam's Club and get $4 in Instant Savings.
Valid 12/1 – 12/25
Get an additional $4 savings through Ibotta when you buy Huggies® at Sam's Club
Esta campaña ha sido compensada por Collective Bias, Inc. y su anunciante. Todas las opiniones son solo mías. #nothinglikeahug # CollectiveBias
La cuenta regresiva para el día de parto ha comenzado. Hoy fui a ver a mi médico y me di cuenta de que me quedan dos o menos semanas. Ya he empezado a empacar la bolsa para el hospital, juntar todos los artículos para la beba que necesito llevar y empezar a reunir de los artículos imprescindibles para bebe, como pañales y toallitas húmedas. El otro día hice un viaje a Sam's Club para comprar mis vitaminas prenatales y me di cuenta de que tenían toneladas de pañales Huggies® a un precio excelente.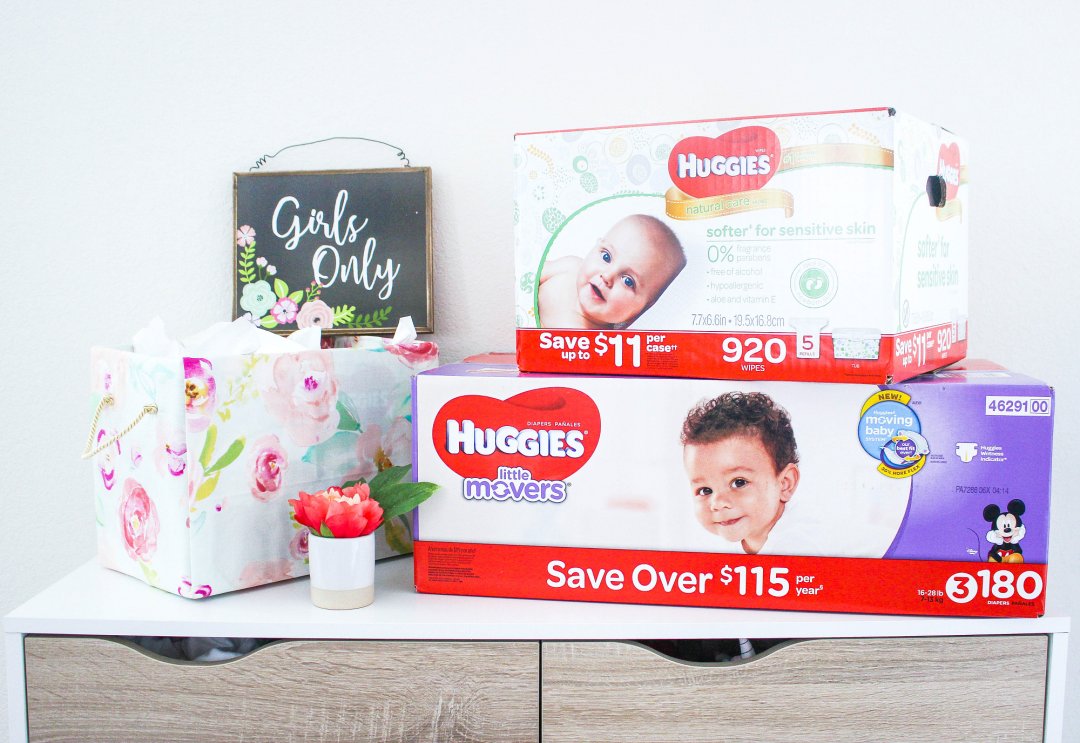 Haz clic en la foto de arriba para mas información sobre Huggies® Diapers
Me encanta Sam's Club porque ofrecen servicios buenísimos. Mi favorito es Club Pick Up. Con ocho meses de embarazo, realmente no me siento con ganas de recorrer toda la tienda buscando todo lo que necesito, así que solo ordeno lo que necesito en línea y Sam's Club llena mi carrito por mí. Todo lo que tengo que hacer es llegar por la entrada de servicio al automóvil, y ellos cargan mis artículos a mi auto. Es especialmente útil cuando tengo que comprar artículos en cajas pesadas como Huggies® Little Snugglers, Huggies® Little Movers y Huggies® Natural Care Wipes boxes.
Ahora que tengo un montón de pañales y toallitas húmedas también tengo un montón de cajas de cartón, y necesitaba encontrar una manera de reciclar las cajas. Y como necesitaba un lugar para guardar los pañales y las toallitas de todos modos, decidí hacer que las cajas se vean bonitas y que coincida con mi tema del cuarto de bebe. Así que creé unos adorables compartimentos de almacenamiento cubiertos de tela usando las cajas de los pañales y toallitas húmedas. ¡Tú también puedes hacer esto! Funciona con cualquier tamaño de caja, solo asegúrate de obtener suficiente tela para cubrir tu caja.
Para este proyecto necesitarás:
Una caja de cartón
Suficiente tela para cubrir el exterior de tu caja
Cuerda decorativa
Una pistola de pegamento con barras de pegamento
Un desarmador, taladro o perforadora para hacer los orificios para las manijas
Tijeras
Primero corta la parte superior de la caja para que puedas crear una bandeja abierta. Coloca la tela debajo de la caja y mida suficiente tela para cubrir el exterior de la caja, más una o dos pulgadas para poder doblar la tela en el interior de la caja. Corte las esquinas de la tela para formar una cruz, dejando una pulgada de tela alrededor para doblar y crear bordes limpios. Corta las esquinas de la tela, que van hacia las esquinas de la caja para crear solapas para poder doblarlas sin tener tela extra en las esquinas de la caja. Dobla la tela del lado corto hacia arriba y pega las solapas a la caja. Dobla las solapas laterales más largas y pégalas. Dobla la tela lateral larga a la caja y pega los bordes dentro de la caja. Haz dos agujeros en cada lado corto de la caja para las manijas. Mete un pedazo de cuerda a través del primer hoyo y ata un nudo en los pedazos interior y exterior de la cuerda. Deja alrededor de 6-7 pulgadas de cuerda y ata otro nudo en la parte exterior de la cuerda. Mete el otro extremo de la cuerda y ata otro nudo en la parte interior de la cuerda. De esta forma, tendrás un nudo en el exterior y en el interior de cada lado de cada cuerda y te ayudará a asegurar tu cuerda.

En este momento, Sam's Club te ofrece ahorros instantáneos por tiempo limitado en Huggies® Diapers, Pants and Wipes durante estas fiestas navideñas. Asegúrate de aprovechar los precios ya bajos y descubre el mejor valor en los pañales y toallitas húmedas Huggies®. Ahorra tiempo y dinero cuando compres para que puedas pasar más de esos momentos y dinero con la familia.
Disfruta de ahorros instantáneos en los productos de Huggies®:
Compra 1 producto Huggies en Sam's Club y obten $ 4 en ahorros instantáneos.
Valido 12/1 – 12/25
Obten ahorros adicionales de $ 4 a través de Ibotta al comprar Huggies® en Sam's Club